For immediate release:

Good Day, I want to provide technology equipment for your next event AVN and CES this January from our local office in Las Vegas with 24/7 on site service. Call me anytime at 503-477-8972 for prices.

Your quick guide to renting computer displays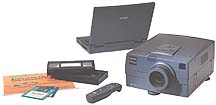 Too often, audio and visual needs are at the bottom of a meeting planners' list. You have a speaker to line up, an audience to seat, materials to create, and a host of details from meals to sleeping arrangement to set. But if the wrong equipment comes in, you
find out in a hurry how important it is.
Still, planning for the audio and visual does not have to be a complex task. Your rental supplier should be able to do most of the work for you. At audio video 4 rent, at least, we need only a few basic pieces of information to make sure your meeting comes off without a hitch.

A checklist for meetings that include computer projection.
Most meetings today involve a computer at some point. This is what you need to know in advance if you will be renting equipment to display computer graphics or other types of presentations.
What kind of computer will you be using? IBM compatible, Macintosh, or something else? If it's an iMac, be sure to mention that to your rental supplier, because their requirements are different than other computers.
What is the computer's resolution? SVGA is 800 x 600, XGA is 1024 x 768, SXGA 1280 x 1024, and UXGA 1600 x 1200.
If you need to show a workstation–or any other computer that's not VGA, SVGA, XGA, SXGA or Macintosh–what is its horizontal scan rate?
If you're using a laptop, make sure you know how to activate its monitor output. (Newer laptops can be programmed in the windows setup to have the monitor output activated at all times. Others might have a command such as Function-F5 to activate the monitor output. Be sure to try this before your meeting begins.)
Will you be showing a video? (We have new 20", 23" 26' and 30 " LCD monitors that play video)
Will you be using transparencies?
Will you be using slides?
How big is the room you'll be using?
How many people will be attending the meeting?
Is darkening the room possible? If possible, would it be a problem for your meeting to do so?
Types of equipment
Once you've gathered the above information, there are still a few choices you'll end up making that will affect the quality of the image you get and the cost of your rental. The most important is the type of computer display device you'll use.
Large screen monitors
Generally, if only a handful of people will be present, a 18" to 30" LCD or CRT monitor is your best bet. If the impression you make is especially important, you may want to consider a plasma monitor, which is a flat-screen display, usually 37", 42", 50", 61" and our 84" multi-plasma giant screen diagonal. Either way, a monitor has excellent resolution and you will not have to darken your meeting room.
LCD projectors
If you need to accommodate 10 people or more and especially if color graphics, brightness and contrast are important to you, you'll want an LCD projector. We have projectors for different screen sizes, brightness and resolutions available for rental to accommodate any specific application. If you need to travel, you can rent a projector that weighs from 5 to 10 pounds. If you need to keep room lights on or expect a large audience, we can provide projectors up to 10,000 ANSI lumens in brightness.
Screen and sound
Your last decisions involve the size and type of screen and the sound system you'll use. For a large meeting, selection of either can be complex. Room size and conditions, seating arrangements and factors such as lighting, acoustics, and the types of other equipment you are using all affect what you need. Your best bet is to get an expert at audio video 4 rent involved, and such advice is available at no charge.
Again,
Let me quote your next event.
37", 42", 50", and 61" plasma monitors
18", 20", 23" 26"and 30" LCD flat panel monitors
P3 and P4 desktop and laptop PCs
LCD and DLP projectors
Microphones and sound systems
Printers, fax machines
Delivery, Setup, Pickup and 24 hour Technical Support

Duane E. Wangenheim 503-477-8972

Atlanta | New England | Dallas | Fresno | Las Vegas | Los Angeles | Phoenix | Salt Lake City | San Diego | San Francisco